JAWAB DE LYRICS - EMIWAY
Jawab De Lyrics by Emiway Bantai is Brand new Hindi from Album "Malum Hai Na" and music of this song given by Meme Machine. Jawab De song lyrics are also written by Emiway Bantai while music video is also publised under Bantai Studio 18 Jul 2021.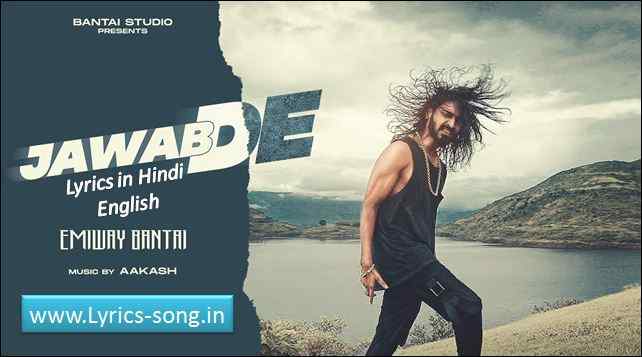 Javab de Lyrics Emmiway Bantai
Jawab De Lyrics Emiway Bantai
Aakash Kaha Hai???
Aah, Wooh! Wooh!...
Haha
Haan, Kuch Dil Dukhaye The Maine Anjaane Mein
Maafi Maangu Khuda Se Mai Is Gaane Se
Jisko Bhi Pohuchaya Tha Maine Dard Usse Maafi Maangu
Shayad Mai Tha Meakhane Me
Dooba Shaitano Main (Aye)
Kaisa Insaan Hun Main Karta Sawal Pehle (Jawab De)
Khud Ko Toh Jaan Lu Main
Kya Chahiye Mujhe Khud Ka Sawal Hu Main
Dooba Shaitano Main (Brruh!)
Kaisa Insaan Hun Main Karta Sawal Pehle (Sawal Pehle)
Khud Ko Toh Jaan Lu Main (Jaan Lu Main)
Kya Chahiye Mujhe Khud Ka Sawal Hu Main
Dooba Shaitano Main Kaisa Insaan Hun Main Karta Sawal Pehle
Khud Ko Toh Jaanlu Main Kya Chahiye Mujhe
Khud Ka Sawal Hun Main
Naya Relation With Trust
Pyaar Karne Laga Toh Fir Bhul Gaya Lust
Khud Pe Main Karu Mera Time Invest
Aaya Kal Mera Fal Har Ek Pal Mera Best
Tere Source Se Bhi Zyada Bade Mere Cheques
Busy Hu Mai Check Nahi Kara Maine Texts
Jo Bhi Kare Horney
Khelna Mujhe Aur Nahi
Rehne Mujhe Aur Nahi
Karna Ignore Nahi
Fir Bhi Karu
Fir Bhi Karu Jo Kabhi Bhi Nahi Karunga
Jo Kabhi Nahi Socha Tha Maine
Kya Mai Karu Shayad Hone Tha Hone Laga Fir Kai Ko Daru
Haath Mai Sab Mere Aatmnirbhar Hu
Jo Bhi Dete Hate Unse Baat Bhi Na Karu
Baaki Jo Bhi Kare Wait Unke Kaano Ko Main Gaano Se Bharu
Zamane Se Mai Karu
Dooba Shaitano Main (Aye)
Kaisa Insaan Hu Mai Karta Sawal Pehle (Jawab De)
Khud Ko Toh Jaan Lu Main
Kya Chahiye Mujhe Khud Ka Sawal Hu Main (Kya Chahiye)
Dooba Shaitano Main (Brruh!)
Kaisa Insaan Hu Main Karta Sawal Pehle (Sawal Pehle)
Khud Ko Toh Jaan Lu Mai (Jaan Lu Main)
Kya Chahiye Mujhe Khud Ka Sawal Hu Main
Yaha Kya Hai Galat Yaha Kya Hai Sahi
Sochta Rahunga Toh Jiyunga Nahi
Jo Bhi Hota Hai Hone Do
Hota Sahi
Bolne Ko Iske Aage Kuch Bhi Nahi
Fir Bhi Likhu
Fir Bhi Likhu Saari Cheeze Jo Karta Hu Feel
Lekin Kehne Se Darta Hu
Akelepan Se Dar Kaisa Main Ladka Hu
Waqt Ke Saath Mai Sudharta Bigadta Hu
Girta Padta Lekin Fir Se Mai Chadta Hu
Dusro Ko Khushi Main Main Khush Naa Sadta Hu
Kaisa Insaan Hu Aaj Khud Pe Hi Bhadka Hu
Chehre Pe Hasi Hai Par Andar Se Ladta Hu
Apne Aap Se Apne Khwaab Se
Sapne Bhaagte Par Mai Jaane Nahi Dunga
Kisi Ko Main Asaani Se Jaan Ne Nahi Dunga
Ha Rehta Hu Private
Fly Karu Jaise Hu Main Pilot
Chod Diya Maine Karna Violence
Bakchodi Kam Karo Silence (Bitch)
Milra Hai Jo Kuch Main Chahra Hu
Mic Rakha Saamne Haa Dil Kholke Gaa Ra Hu (Haq Se)
Waade Karunga Jab Tak Lagta Nahi
Andar Se Dil Ko Bata Ra Hu
Toot Ta Hua Taara Hu
Dusro Ko Khush Rakha Toot Ke
Galtiya Maine Bhi Ki Hai
Zindigi Mai
Lekin Abhi Hu Mai Sahi Route Pe
Dooba Shaitano Mai (Aye)
Kaisa Insaan Hu Mai Karta Sawal Pehle (Jawab De)
Khud Ko Toh Jaan Lu Mai
Kya Chahiye Mujhe Khud Ka Sawal Hu Mai (Kya Chahiye)
Dooba Shaitano Mai (Bruuh!)
Kaisa Insaan Hu Mai Karta Sawal Pehle (Sawal Pehle)
Khud Ko Toh Jaan Lu Mai (Jaan Lu Mai)
Kya Chahiye Mujhe Khud Ka Sawal Hu Mai Khud Ka Sawal Hu Mai
Emiway Bantai Malum Hai Na Haha
Khud Ka Sawal Hun Mai
Har Jagah Bawal Hun Mai
Jalna Toh Banta Hai
Kya Kare Itna Kamaal Hun Main
Jawab De Song Details:
Song: Jawab De

Album: Malum Hai Na

Singer: Emiway

Lyrics: Emiway

Music: Aakash

Label: Bantai Studio

Release Date: 18 Jul 2022